The Cost of Renovating.
"Renovating your Kitchen, and how much it really costs! "
April 21, 2020, Interior Designer, Alysia Pekel
Getting hooked on Pinterest, creating boards that are flowing with inspired pins, watching the latest episodes of home transformations on Lifestyle. So how much does it really all cost?
Western Cabinets are here to help guide you through all the costs associated with a Kitchen Renovation, from design consultations through to flooring, lighting, painting and appliances.
Kitchen renovations can start anywhere from $20,000 right through to $100,000, but no matter where you sit, you can still have that Pinterest inspired new kitchen.
SIZE REALLY DOES MATTER….
The size of your kitchen will affect the cost of your renovation. It could cost as little as $15,000 to renovate a small kitchen around 8 – 20sqm, but a large, could cost as much as $60,000 plus for a 20+sqm.
BEFORE STARTING YOUR RENOVATION
Before beginning your renovation and get carried away with all the pretty finishes, look at the space you have and consider the below:
What do you want from the space?
How do you want it to function for you and your family?
Is the footprint and configuration of the existing space right?
Next, is the B word….Budget! How much do you want to spend on the renovation. Is it a project in which you are going to invest in for the long term, or is this project for re sale. It is really important to consider your home's resale value when considering your investment.
Within the industry, it is said to spend between three to eight percent of the home's value on a full kitchen renovation if wanting to make a profit or to break clean when it comes to sell your home.
For example, the median house price in Perth is $800,000, an investment could cost anywhere between $24,000 – $64,000 on a Kitchen renovation.
HELP, I DON'T HAVE THAT SORT OF BUDGET!
And that's OK! There are other ways in which you are able to refresh your existing Kitchen to give it that Pinterest Glam.
Give those doors and drawer fronts a facelift! Replacing the old doors and drawers with new fronts and modern handles(but don't forget those end panels)
Update those old white appliances to new flashy stainless steel or black fronts. Let's be honest, I'm sure that old oven is barely heating up these days.
Tile paint for those horrible brown/beige splashback tiles.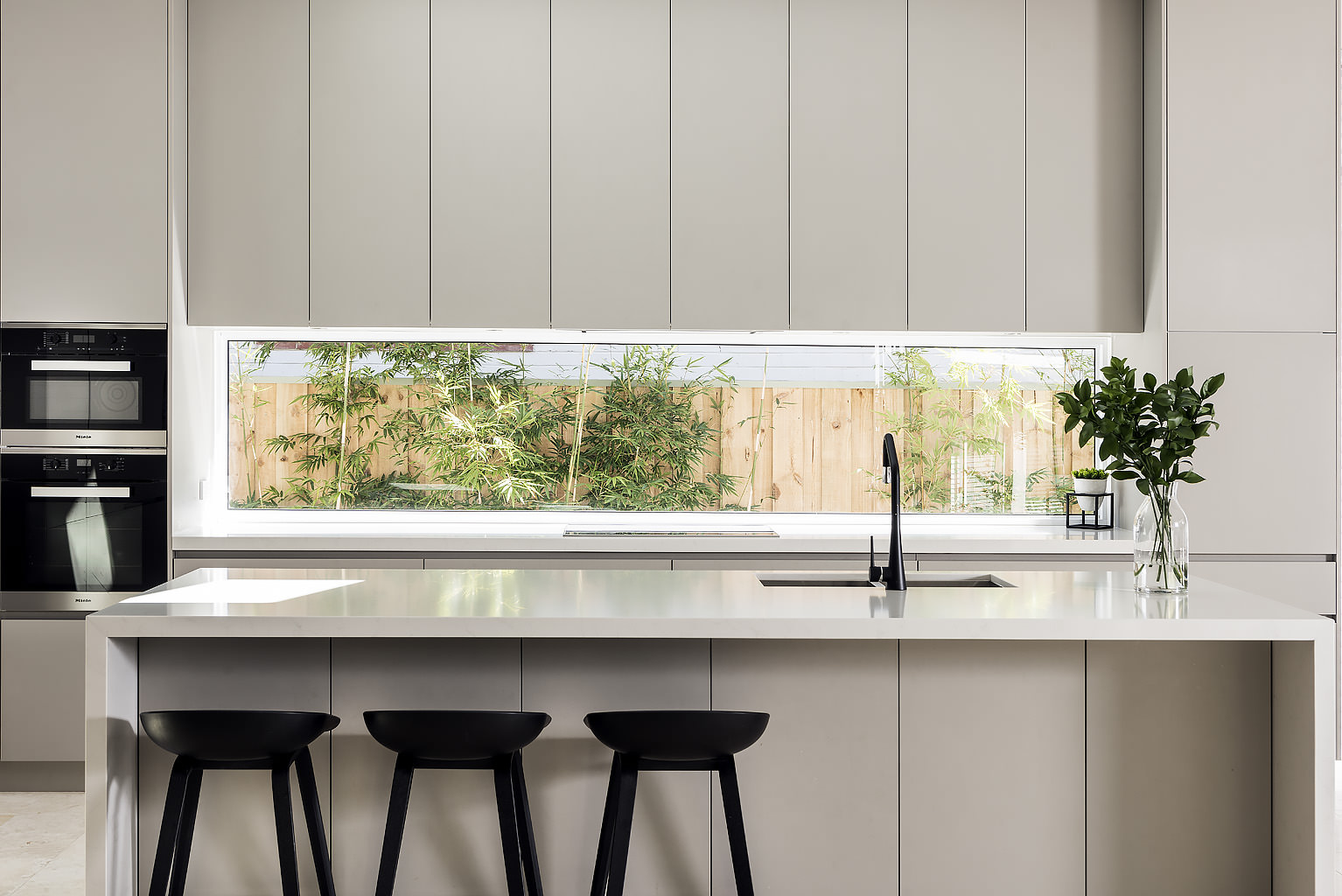 NOW FOR THE FUN……DESIGN AND LAYOUT
Are you looking at changing the layout from the existing footprint of your kitchen? If so, this may be to increase the storage capacity, or allow room for that scullery/walk in pantry, or removing that pesky column getting in the way of your dream Kitchen. If you are looking to change the footprint of your Kitchen, and who wouldn't want a bigger kitchen…..you could be looking around $10,000 – $30,000.
The costs will involve, wall removal, new beams to put in place, and engineer drawings, making sure that your new space is compliant with building codes.
The size and shape of your room will establish the design of your Kitchen, but always consider the classic "Working Triangle". This will help in minimising walking distances and utilise functionality between your major appliances. You can also 'flatten" the triangle by having the sink and hotplate on the same run, this too reduces the distance between appliances, mostly allowing for a larger preparation and service platform on the island bench.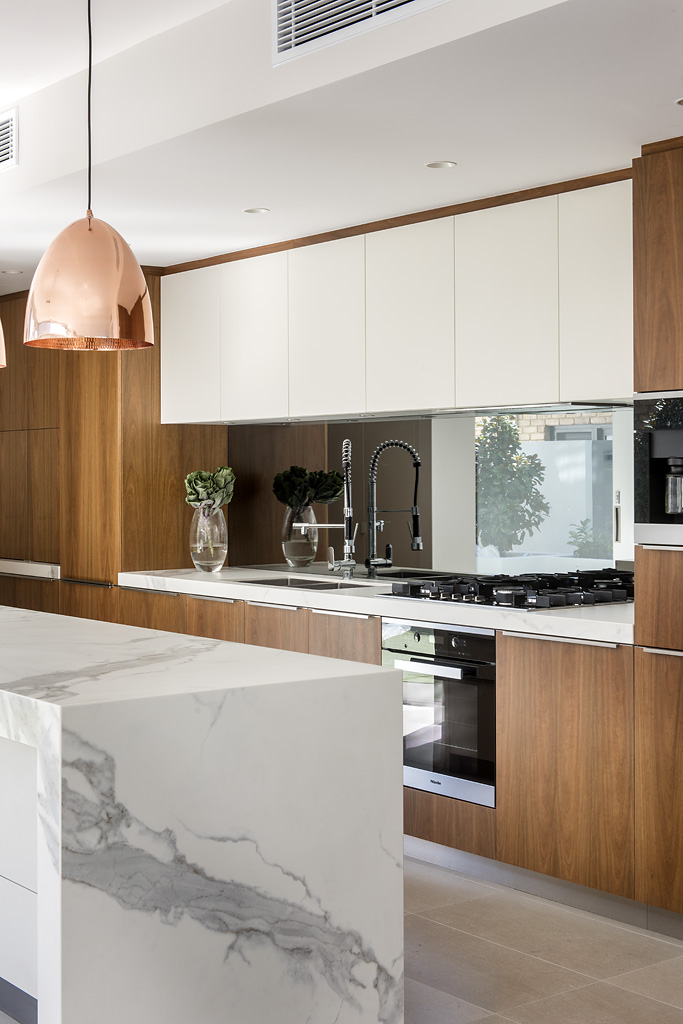 SELECTING MATERIALS AND HOW MUCH THEY COST
CABINETRY:
Custom cabinetry is a game changer in the industry, if you crave that luxe overall feel and look. Custom cabinetry can start anywhere from $500 and up a cabinet installed. Expect to invest 30% of your budget on the cabinets alone. Your cabinetry should have a life expectancy of at least 15 – 20 years, so investing quite a bit of your budget makes sense.
Off the shelf stock cabinetry such as IKEA or Bunnings will set you back at least $170 a cabinet not including installation or assembly.
BENCH TOPS:
Bench tops can vary, depending on colour, thickness, edge details and the material selected.
You can be savvy by using a cheaper colour and material on the back bench, and keeping a more expensive Marble look option for the island centre piece. Reducing the fascia to a standard 20mm will also keep the cost down.
Wanting those chunky tops and that waterfall end on your island will add to your budget, but they do add that impact and depth to your overall design.
APPLIANCES:
Appliances can range anywhere from $2,000 – $15,000 and can really finish off the space. The appliances will depend on those first three questions…..How do you want it to function for you and your family?
Your designer will be able to help you in selecting the appliance that is right for you.
SPLASHBACKS:
Tiles, porcelain, glass; stone……there are so many options for splash backs. This is the last item to be installed and will depend on the overall feel of the space and design of your kitchen to what would visually appeal to the client.
Tiles are usually inexpensive and are a great way of introducing texture into the design.
THOSE FINISHING TOUCHES
It's time to add that personal touch that screams you! Pendants, stools, window treatments, a fresh coat of paint. These are the finishing touches that always get forgotten.
Pendants are a great way of adding that bling, quirky, oversized furnishing that can be easily changed to suit your personality. Recessed lighting costs about $120 to install and pendant lighting $150.
LABOUR COSTS
Looking at replacing splashbacks or benchtops? Make sure you look at unexpected costs when updating these.
For example, wall tiles may be removed to make way for a new and exciting update but may discover that walls may need repairing. In this case, it could cost you an average of $2,000 for strip and reinstallation.
Another cost to consider is floor protection, Hardie Board or Ram Board. This is laid on high traffic areas within the home during a renovation to help prevent any damage to your existing timber floors, by trades.
READY, SET, GO!
Excited to start planning your renovation! Visit Western Cabinets showroom and speak to one of their award-winning interior designers to get started on your home's investment. We will help guide your way through any renovation no matter your budget.
We will make sure that you are left with an Award-Winning Kitchen that functions and gives you all the warm and fuzzy feels like the Pinterest Kitchen you were pinning like crazy before this all started.